Song Kang and Cha Eunwoo are known to be extremely handsome actors with irresistible charms no one could actually resist. They have a lot of things in common: their faces are works of God, they have buff bodies to boot, they have hordes of fans supporting them in every single project they have, and unfortunately, they also share the same acting skills -- bland, boring, and leaving much to be desired.
Thus, it is common to compare these two because they have a lot of common denominators. How come they get lead roles in dramas with much capable female leads? I'm talking about Rookie Historian with Eunwoo and Shin Sekyung, and Nevertheless with Song Kang and Han Sohee.
Same with Song Kang, I have yet to find out one single praise about Cha Eunwoo's acting. Most comments I hear about his acting are about the people I know from the industry. They say that casting directors and directors only get him because of his looks, and the amazing fanbase he has. That's a great business move, because at the end of the day, the entertainment industry is still an industry -- they need to earn money off of these people.
Rookie Historian was one of Cha Eunwoo's biggest acting projects because I believe this is the first leading role he landed, after playing supporting roles in Hit the Top and other webdramas. Rookie Historian was also broadcasted on a public TV station -- MBC -- so a lot of people would be watching him. Some people were surprised at the casting, and they eventually got annoyed when Eunwoo cannot produce multiple facial expressions fitted to the script. It's the same face he keeps on giving to the camera, be it when he got mad over something, to when he was trying to seduce Shin Sekyung, to crying moments. It's bland, meh, and people expected more.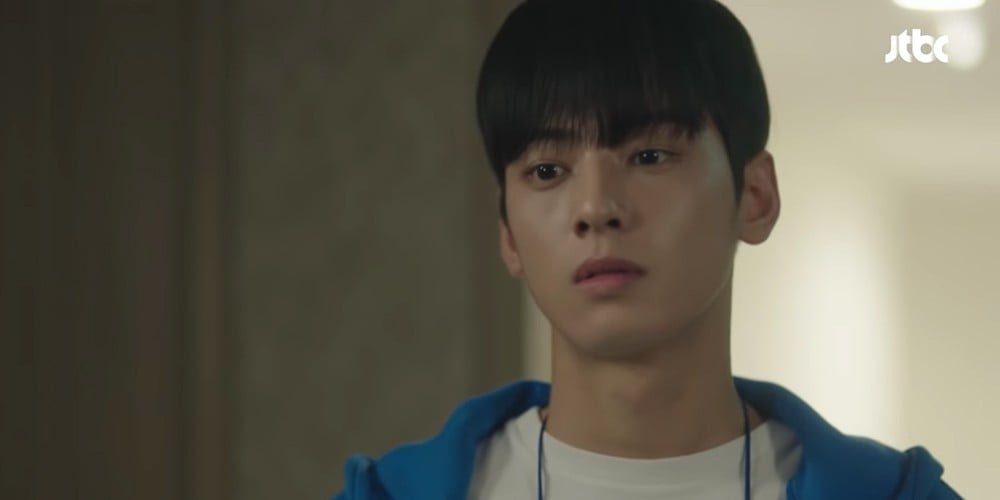 His another drama, My ID Name is Gangnam Beauty -- another lead role -- was underwhelming. Good thing Im Soohyang's acting was also put into question and he was not alone in sharing the criticisms about acting. It's the same tsundere pose and facial expression, again and again and again.
His most recent drama True Beauty was a hapless mishmash of everything bad -- bad plot, bad actors (save for Hwang Inyeop), bad acting -- and it was his face that saved and hard carried everything to the end. Ask everyone about his acting chops in this drama and they'll give you praises about his looks instead. Clearly, nothing's praiseworthy.
Unlike Cha Eunwoo, however, Song Kang got praise for his acting in Sweet Home. He was able to portray the role and give justice to the webtoon. People praised him for his acting chops this time, so maybe this was the boost Namoo Actors heard and they continued sending him to auditions to more lead roles. We all know what happened next.
Navillera was his first major role to be aired on television -- since Sweet Home was a Netflix original -- so everyone was expecting he'll deliver the same acting chops he gave to Sweet Home. Unfortunately, it was his vocalization that made him fall. He was too soft and timid most of the time, to the point that his senior co-star Park Inhwan, suggested to Namoo Actors that he take vocalization lessons to improve his pronunciation and speaking tone. In addition, he kept on reminding Kang about the importance of enunciating everything clearly -- before they shot, during the shoot, and after the shoot ended.
As I mentioned in the previous article I wrote about him, if a senior actor has told him, the male lead, that he needs to improve, constantly throughout the filming process, he really needs to work on something.
Alas, Namoo Actors never listened and instead went on with his next drama Nevertheless.
By then, no one was expecting growth from Song Kang since he had little time to prepare from Navillera to Nevertheless, and boy they were never wrong. He was compared to his onscreen partner Han Sohee (of the World of Married Couple fame) and the parallels are so huge.
While Han Sohee gathered so much praise especially with her iconic museum scene, Song Kang's entire acting performance is a different story. Viewers complained of his stoic acting, lifeless delivery, and overall bland performance.
Again, Namoo, you guys should have listened.
What worries me the most is that these two have accepted more dramas: Eunwoo with Island alongside Kim Nam-gil (The Fiery Priest) and Lee Dahee (Search WWW) and Song Kang with Cruel Story of Office Romance alongside Park Minyoung (What's Wrong with Secretary Kim and Her Private Life). These are major dramas and they are expected to have big roles.
Can't they at least refuse the dramas and focus on their improvements instead?
I'm still hoping that Fantagio and Namoo Actors do their jobs as agencies because they are very much known for producing great actors and these two are not doing them any favors.